ATMOSPHERIC DINING
Renowned culinary experts define each of Shangri-La's Villingili Resort & Spa's inspiring restaurants, where traditional Maldivian cuisine meets a fusion of international styles set against spectacular backdrops.
Relax and enjoy the uninterrupted, hypnotic views of the Indian Ocean at the one of the sublime, al fresco bars and lounges.
Dr. Ali's
Middle East, South China Sea & Indian Ocean Cuisine
Boasting three distinctive dining rooms that open out onto seafront terraces, Dr Ali's is an authentic, diverse dining destination with a rich heritage.
Our chefs' unsurpassed fine cuisine takes inspiration from the Indian Ocean, South China Sea and Arabian Gulf, combining traditional flavours with tantalizing, fresh and innovative style.
Jaavu
International Cuisine
At Javvu, enjoy the island's true beauty with an al fresco gastronomic experience.
Offering gourmet international fare in a beautiful scenic setting, this beachside venue delivers an array of choices from Mediterranean favourites and barbecue delights, to fresh local seafood and exceptional Maldivian cuisine.
Fashala
Mediterranean Cuisine and Seafood
Fashala, which means "the edge" in the local dialect, is located right where the lagoon meets the ocean, and is the perfect location for a more romantic and refined dining experience while taking in the spectacular sunset.
Premium produce and the bounties of the sea form the heart of a skilfully crafted, Mediterranean-inspired menu.
Endheri
Endherei meaning "black coral" in the local Dhivehi language, is an outdoor, elegant pool bar and lounge offering sharing platters, comfort bites and refreshing hand crafted beverages.
Manzaru
Manzaru is the perfect place to enjoy blissful, tropical sunsets in an al fresco, stylish setting. Enjoy upbeat vibes and cool beats from the D.J. while sipping on a signature Manzaru bliss cocktail.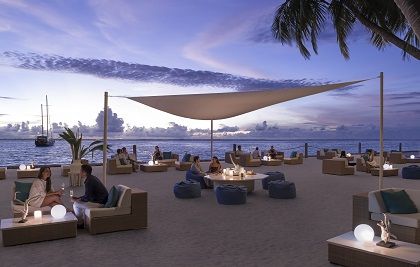 M-Lounge
M-Lounge, a chic and sophisticated beachfront venue, the ideal spot for cocktail blends and bubbly nights. Be sure to taste the signature M-Fizz drink.