OUR COMMITMENT TO THE COMMUNITY
Addu, where Villingili island is located, boasts the largest population in Maldives outside the capital city of Malé, but tourism development of this southern atoll was minimal in the past.
Since its opening, Shangri-La's Villingili Resort & Spa, Maldives has been able to provide assistance to local community initiatives and opportunities to local industry.
School Leaver's Apprenticeship Programme
As the premier luxury hospitality establishment in Addu, the resort is in a unique position to provide experience to aspiring young hoteliers. Up to nine young Adduans at a time receive placement in our apprenticeship programme, wherein they receive on-the-job training and a Shangri-La certificate in hospitality.
Since December 2012, when we received our first intake of apprentices, our progamme has served as a stimulating introduction to the hospitality industry.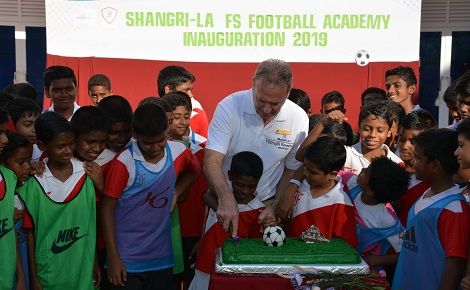 Football Academy with Feydhoo School
As football is the number one sport in the country, the resort has chosen to encourage and support local students in grades 1 - 10 by establishing a training ground with professional coaching from national football players.
The goal of the initiative is to rehabilitate and train youth with football, ultimately developing them into professional-level players.
Special Education at Sharafuddion School, Hithadhoo
Our partnership with Al-Noor Centre in Sharafuddin School intends to develop a classroom and occupational therapy centre for children with special needs who require education in Addu City.
Disabilities include Autism, Attention Deficit Hyperactivity Disorder (ADHD), Cerebral Palsy (CP) and Down Syndrome.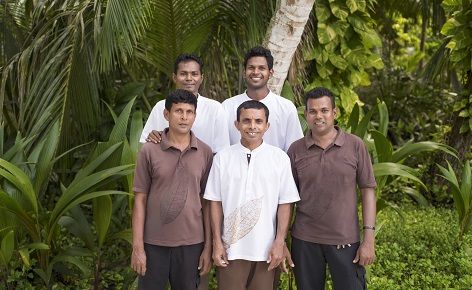 Local Farmer's Co-Operative
Local farmers of fruit and vegetables supply the resort with fresh, organic produce on a weekly basis. The resort's team have been instrumental in developing a successful business relationship with the farmers, which resulted in the formation of a co-operative society in order to better coordinate their production.
For this initiative we were awarded a silver medal at the World Responsible Business Award.